Leg Lengthening with Hybrid External Fixator HEF
This technique is an evolution of the Ilizarov technique. It is a very versatile technique which can sly correct deformities and can generate large amount of bone lengthening. Late consolidation, a feared complication in law bone lengthening techniques, is easy dealt with conpression of the not well developed new formed bone. In fact bone grafting is rarely necessary with this technique.
This can not be achieved with most of the intramedullary (internal) devices.
The lengthening speed is of 0.5-0.75 mm / day for a single osteotomy and double (up to 1.5 mm / day ) for a double osteotomy.
This can also be an advantage with respect of  intramedullary (internal) devices.
The HEF has to be kept in place for the all duration of the treatment till full consolidation is achieved. Usually it takes around 100 days for lengthening up to 8 cm and 5-6 months to achieve a full consolidation.
During the lengthening time the patient will walk with crutches and follow our rehabilitation protocol to avoid muscle contractures such as ballerina foot.
With HEF these complications are better dealt due to the possibility of passive physiotherapy to stretch the muscles.
Even though in theory a full weight could be applied to the frames, walking with crutches is advised. As the consolidation progresses and as the patient gains confidence a full weight can be applied.
When the HEF is removed a  splints is applied to the leg to protect the new formed bone.
Foul sport activities are usually possible within 6 months.
The recovery is usually complete.
Disegno Schema of an Ilizarov external fixator and used for leg lengthening
In a HEF instead of wires half pins are used to connect the frame to the bone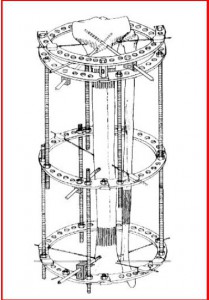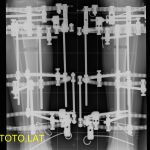 Possible risks of this procedure:
Pin and wires tract infection. This is usually a very superficial infection which is treated with local disinfectants or antibiotics and usually recovers fully without serious problems.
Delayed bone consolidation which rarely needs a second procedure such as bone grafting
Deformities are easy dealt acting on the frame
Neurovascular problems due to blood vassels or nerve stretching. This complication have never been experienced by our patients but are described in the literature.
All tease complicanze, with the exception of pin and wires tract infection is common to all bone lengthening methods including endomedullary  (internal) nails.