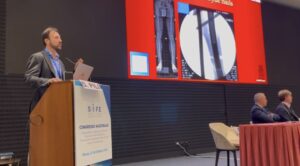 IL DR PILI PRESENTS LIMB LENGHTENING SIRGERY WITH INTRAMEDULLARY NAILS AT THE  SIFE 2023
It has been an honor and a privilege to be hosted at the recent SIFE Congress.
My contribution to showcasing the innovative limb lengthening technique using intramedullary nails has demonstrated the direct derivation of this new technique from external fixation, which was the foundation of the event.
During the congress, I shared my experiences and shed light on the recent advancements and challenges faced in the field of external fixation and the synergy of the latter with the new limb lengthening techniques utilizing intramedullary nail technology. The participants and I had the opportunity to learn from the best minds in the industry and to be inspired by the success stories of those who came before me.
Special thanks to the congress organizer, Alexander Kirienko, to my mentor Maurizio Catagni, and to friends and inspirations Dror Paley and José Carlos Bongiovanni.